The Inmates set alight the Sophie stage at Bloodstock 2021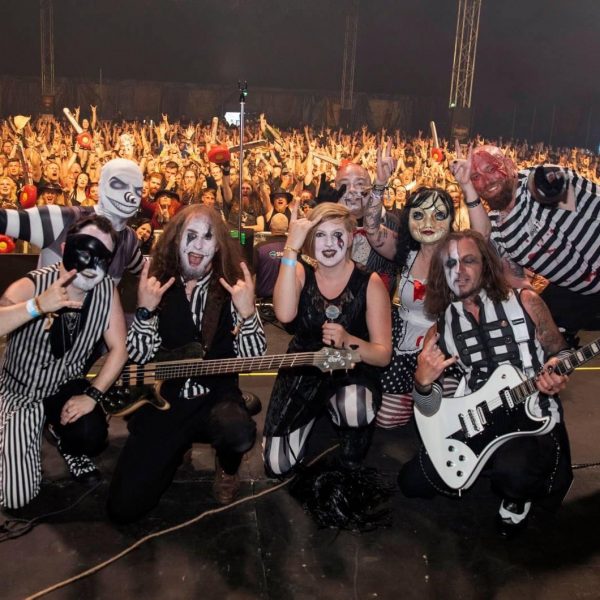 The Inmates made a welcome return to Bloodstock on August 11th and lit up the stage in their ambitious and theatric Metamorphosis stage show, and prompted many insane reviews from the packed out tent.
Read some of the reviews below;
Kerrang
Bloodstock also prides itself on providing a springboard for new and lesser-known bands though and, as ever, there was plenty to discover. Ward XVI electrified the early crowd on the Wednesday with an ambitiously theatrical set.
Metal Planet Music
Ward XVI were up next and there is only one word for their entire performance: exquisite. The choreography and production was to be admired, every single step was full of horrifying and chilling details right down to the ghoulish costumes, their preparations did not go unnoticed.
The atmosphere was haunting and the music was belting. The flames took their position for 'Burn The Witch' and at that moment I realised they had nailed the theatre act, definitely the best I've seen. Psychoberrie is a hero, her vocals were effortless and powerful, there were zero breaks when she hit the clear notes resulting in a silky smooth running.
This crazy lady gave birth only a couple of weeks ago and there is no denying that all the hours of dedication to perfect the performance definitely paid off. The tent was bursting and their overall sound was huge, certainly well balanced between the electronics and guitars too, a fantastic job.
Moshville Times – Wednesday Review
In-house favourites Ward XVI followed with their ambitious Metamorphosis set. I'm very much aware of the time and effort that went into this production and I was absolutely buzzing with the crowd's reception. They absolutely nailed it including some impressive flames during "Burn the Witch", and a wealth of costumed characters. Ward XVI proved that they're ready for the big time with a huge crowd following and an actual show, not just some songs with bells on.
Moshville Times – A Paying Person's Perspective
Wednesday for me, was all about Ward XVI. I had missed the first band due to the delay in getting in, but I was there near the front, ready to witness a live version of what is probably the best NWOCR album of last year. The effort, stage set and props, coupled with the fantastic performance by this band, made this the perfect start to an amazing festival. We had monsters and skeletons, a bed and pyrotechnics. What more could you ask for? These guys hand you a real show, much like Alice Cooper and the early Dio gigs where music and theatre collided. For me this was a touch of nostalgia along with great music. I tip my hat to the band, they worked hard and it paid off, especially to Kberry, singing her heart out just three weeks after the birth of her child. The only downside was the sound, at times it was a little faint in areas but on the whole, the show was great! This stage was dogged by a poor mix by many bands all weekend, it was certainly not the bands' fault, I feel one of the engineers needed to up his game a little. When The crowd shout to turn up the vocals like they did later in the weekend, engineers need to take notice.
Rock Flesh
They are followed by Ward XVI who bring a hell of a lot of staging for a half an hour stage set, in fact my overarching feeling is one of wanting more, a lot more. The set itself is brim full of theatrical flourishes and massively atmospheric tracks but it is over far too soon. The way that they are received, however, makes me feel that this was simply a precursor to a headline slot next time around.
Distorted Sound Mag
WARD XVI are not just celebrating a return to the stage – three weeks ago guitarist David Stott and vocalist Kberrie Nutter welcomed their new son into the world; or as the band would put it, the latest inmate added the asylum. As for their show, it's filled with all the spectacle you would expect from the shock rockers; plenty of pomp, circumstance and pyro as they charge through a set of fan favourites from Mr Babadook to latest single Burn the Witch and beyond. The sound on the Sophie Stage is patchy all weekend and WARD XVI are one such culprit, but they've come a long way in recent years, helped by the power of most recent album Metamorphosis, and this show is testament to what they're capable of. Give it a few years and they could well be headlining this stage, not playing second on opening night.
Ghost Cult Mag
The brilliantly theatrical Ward XVI are up next. Wearing striking costumes and macabre make-up, the five piece are aided by creepy living dolls and other strange stage companions as they treat the crowd to a selection of spooky songs before challenging them to indulge in a now traditional "circus pit".
GBHBL
It's been a long time coming and I will admit I was very excited and a bit merry by time the group took the stage. An imaginative stage show, pyro to warm the heart and singe the eyebrows, a killer set of songs… 30 mins flew by in a blur. Ward XVI did not disappoint. Score: 8/10
Metal Talk
Ward XVI impressed with their theatricality, the full show an amalgamation of gothic and horror tropes which didn't feel contrived and set a mood of danger and intensity, making sure the adrenaline was pumping.