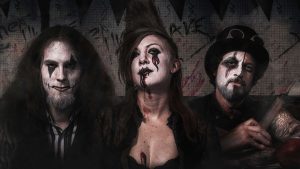 Dare you enter Ward XVI, maximum-security for the mentally deranged?
Once more, the gates of Whittingham Asylum have been cast open. Freaks and outcasts, oddballs and inbreds – all are welcome. Get up close and personal with the UK's most brutal and bloody serial killer; Psychoberrie, as she spins a haunting tale of depravity and manipulation. Watch in horror as she executes her prey live on stage. Fall victim to catchy female vocals, fortified by a genre-defying mix of hard-hitting metal riffs, off-beat ska rhythms, melancholic piano, jaunty accordion and a hint of electro. Drawing from their eclectic background, Ward XVI are inspired by a whole host of musical masters, including Alice Cooper, Iron Maiden, Rob Zombie, Diablo Swing Orchestra and Avatar.
Releasing their debut full length 16 track concept album 'The Art of Manipulation' in 2017, it received critical acclaim from reviewers and fans alike.
Desperate to take their story of shock and awe to many an unexpectant audience, The inmates toured the album extensively and In 2017, Ward XVI secured a spot on the coveted New Blood Stage at Bloodstock Open Air Festival by progressing through the regional stages and final of the Metal 2 The Masses competition.
Their performance was an unprecedented success, packing out the tent at 10:30am and being described as one of the most insane and busiest openings in the festival's history and resulted in the festival organisers awarding them with a prize of a brand-new PA system.
Since then, the Ward XVI inmates have gripped UK audiences with their headline 'Scare in the Community' tour, whilst touring with Doyle (of the Misfits) and Red Rum. Appearances at Hammerfest 2019, HRH Metal Meltdown, Amplified, Breaking Bands, SOS Festival and Ragnarok Festival, Ward XVI went from strength to strength wowing the crowds of blood thirsty inmates and insaniacs.
The time inevitably came in 2020 for Psychoberrie to reveal the next instalment of her sordid confessions and leave you under no illusion that this although this individual may look pure on the outside, has the blackest of blackened hearts.
The next chapter of her confessional 'Metamorphosis' was released in the Autumn of 2020, and has received critical acclaim and awards, ending 2020 in many top 10 polls of best album of 2020.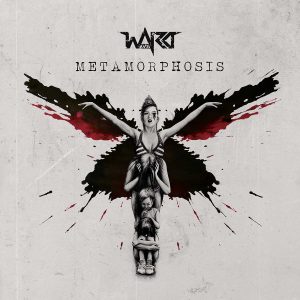 METAMORPHOSIS
'Metamorphosis' is not for the faint-hearted. The Cradle Song presents Psychoberrie as a squalling infant, clinging to her mother's breast. A clash of symbols welcomes you to the ward, conjuring pangs of sorrow at her ultimate demise. Memories of daisy chains become marred as our killer grows, tormented by a night-time monster. Fear pricks and wrongness seeps as we realise that the beast is her own mother.
Psychoberrie's idyllic childhood is desecrated by her mother's alcohol addiction and her pure, religious faith distorts into a feverish adulation of the Devil. 'Imago', the first single, captures this dark transformation: 'Don't you pray to God that I can be saved, there's no redemption now, to the Devil I am slave, I am slave'. It's unadulterated, psychotic evil and celebrates Ward XVI at their most hell-raising.
Bitter and enraged, teenage Psychoberrie tricks her abusive mother into drinking poison. Racked by unexpected remorse, she ends her mother's suffering with a gunshot to the head, before purging the body with fire. 'Burn the Witch' is a song of self-flagellation and acceptance, with Psychoberrie emerging from the smoke and shadows fully fledged as the Painted Lady.
Lyrically satisfying 'Catch Me If You Can' explodes as the stomp-along anthem, a tradition led by 'Toybox' in 'The Art of Manipulation'. Still a juvenile and with no plan and no hope, Psychoberrie runs from the law. It's not long before she is caught. At trial, the judge takes pity on her dismal upbringing and sentences her to psychiatric rehabilitation. Condemned to Ward XVI, our antihero is forced to endure electroconvulsive therapy and abuse, driving her deeper into the shadows of her own insanity.
Manic, tragic, theatrical and at times orchestral, 'Metamorphosis' is a carefully constructed musical carousel. Prepare to be enthralled with delicate melodies, malevolent outbursts and high-energy crescendos. Welcome inmates, once more, to Ward XVI.
2021/22 looks to be a crazy one when the Asylum doors are opened, with appearances planned at Hard Rock Hell 2021, HammerFest, Tanking, in addition to their own UK tour.
The production is more ambitious,  interactive and bombastic than ever before.
Ward XVI are;
Psychoberrie-Vocals
Doktor Von Stottenstein-Guitars/ Vocals
Wolfy Huntsman-Bass/ Vocals
Martt Attack- Keyboards
Bam Bam Bedlam-Drums