"Look no further than the madcap mayhem that is ward xvi! bringing theatrics to rock or is it taking rocking to the theatre? either way this troupe are unique in their stunning delivery" – metal planet music
Influenced by: Alice Cooper, Skindred, Iron Maiden, Rob Zombie, Diablo Swing Orchestra, Alter Bridge, In this Moment and Avatar.
VIDEOS
CAREER HIGHLIGHTS
Main Support for Cradle of Filth at The Roundhouse in 2021
Bloodstock Festival Sophie Lancaster Stage in 2021 and New Blood in 2017
Main support for Diablo Swing Orchestra 2023
Main Support for Lawnmower Deth in 2022 and 2023
Main Stage appearances at HRH, Hammerfest, Winter Rocks, NWOCR & Love Rocks
Headline festival slots at SOS Festival, Pentre Fest, Sav Fest & Whitby Goth Weekend
Headline 15 date UK tour in 2022
Tour support for Doyle (Misfits) in 2018
THE STORY SO FAR……….
2017-2019
In 2017 the first chapter of a planned trilogy of concept albums, 'The Art of Manipulation', introduced you to the sordid story of Psychoberrie- the UK's most notorious serial killer now incarcerated among the warped inhabitants of Ward XVI. The album was greeted with critical acclaim with catchy female vocals, hard-hitting metal riffs, off-beat ska rhythms, melancholic piano, jaunty accordions, and a hint of electro. Each member drew from their own eclectic influences that included Alice Cooper, Skindred, Iron Maiden, Rob Zombie, Diablo Swing Orchestra, Alter Bridge and Avatar.
Read more...
2017-19 saw Ward XVI go from strength to strength, gripping UK audiences with their headline 'Scare in the Community' tour, a 14-date tour of the UK with Doyle (of the Misfits) and a 10-date UK tour with Red Rum, while also wowing the crowds at Bloodstock (after winning Metal to the Masses), Hammerfest, HRH Metal Meltdown, Amplified, Breaking Bands, SOS and Ragnarok Festivals.
2020-2022
In September 2020, The second chapter of Psychoberrie's confessional 'Metamorphosis', was unleashed. The album received critical acclaim from fans and media alike and claimed a spot in many top 10 album polls of 2020.
This was followed up In December 2020 with the EP 'Unplugged and Sedated', as Ward XVI confronted the effects of a Covid-19 ravaged year and responded to the overwhelming demand of their inmates following live acoustic versions of Metamorphosis songs posted online.
In August 2021, The inmates escaped their confines to take Bloodstock Open Air by storm with a show packed full of explosives, monsters and theatrics that received rave reviews from all that witnessed it from within a packed Sophie Lancaster tent, this was followed by an appearance at the legendary London Roundhouse supporting Cradle of Filth which was met with an incredible response.
In December the Inmates finally played their rescheduled Metamorphosis album launch show to a full to the brim Manchester Academy 3. 2022 saw the intensity turned up with a 15 date UK Tour, mixed with main stage appearances at HRH XIV, Hammerfest, Winter Rocks, NWOCR live fest and a support gig with legends Lawnmower Deth.
2023 
The inmates have returned to the confines of the Asylum to work on chapter 3 of the Psychoberrie trilogy, with just a handful of gigs this year including headline slots at SOS Festival, Pentre Fest, Sav Fest and the World famous Whitby Goth Weekend, in addition to appearances at Love Rocks, HRH XVI, Alt Model of the year awards, Rabidfest, a supporting slot with one of their biggest influences Diablo Swing Orchestra and a return to the stage for the second year running with Lawnmower Deth. 
2024
2024 will mark the release of the inmates along with an intense, hard hitting new album which will be the 3rd and final part of the Psychoberrie Trilogy of albums..
Discography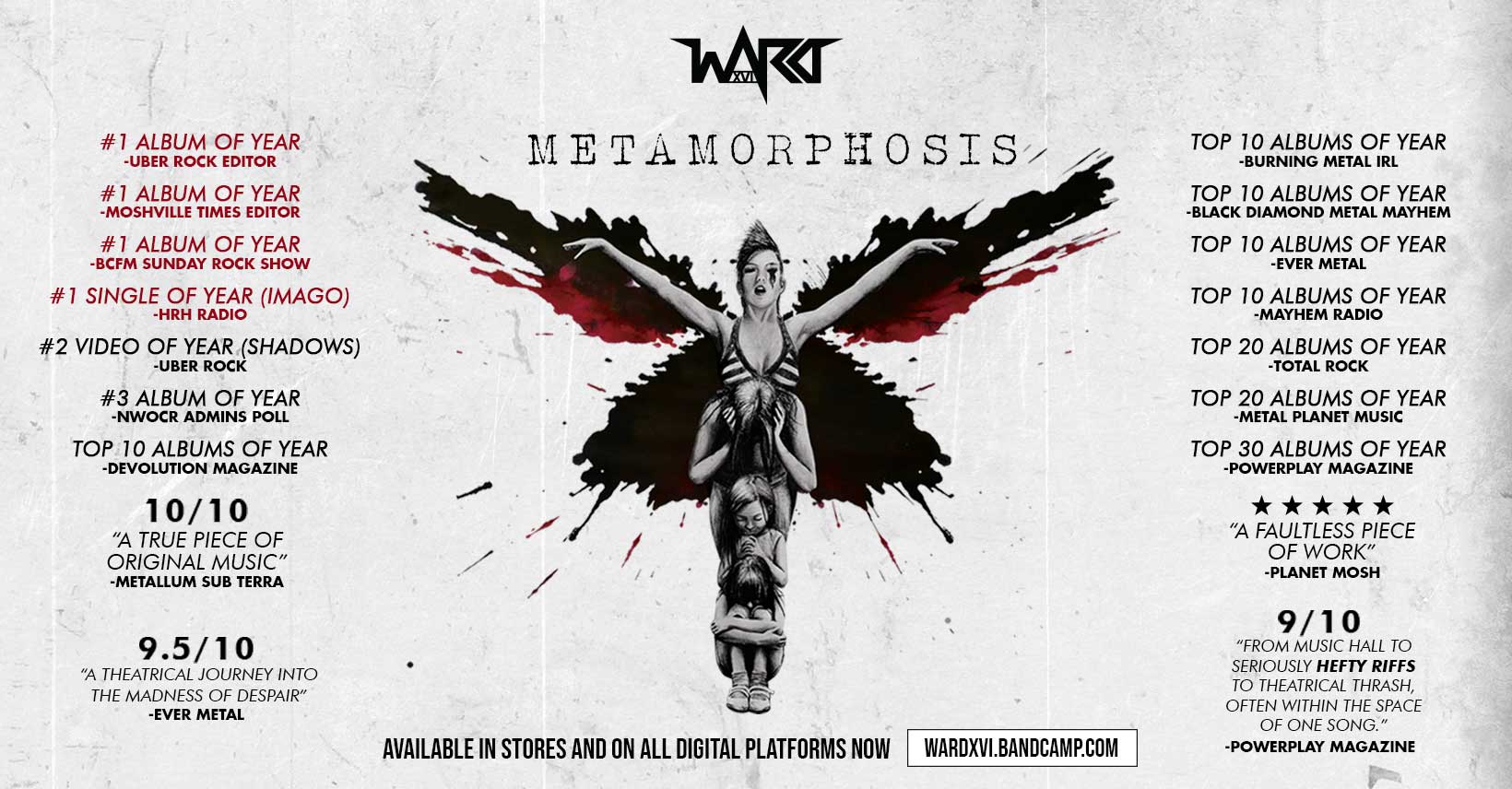 Metamorphosis (2020)
'Metamorphosis' challenges everything you think you know about the notorious fiend, Psychoberrie. Travel back to the very beginning and ask yourself: is evil born, or made?

A mother's love, formed in a haze of dolls and daisies, is blackened by merciless addiction. A little girl seeks protection from the broken and abandoned, anything to quell the monster that comes at night. Corrupted by unspeakable cruelty, pious innocence undergoes a malevolent transformation. Experience the elation of a first kill and the debauchery that ensues, culminating in a desperate run from the law.
The Art of Manipulation (2017)
The Art of Manipulation is a 12-Track concept album telling the introspective story of a female psychopath locked away in a high security asylum. Throughout the album she delves into her past life and tells the story of how she manipulated a man into killing for her using her feminine charm; however when the guilt became too much for him to bear this charm transformed into something much more sinister.
Live reviews
"The Devil's Arse has been the abode of prehistoric cave-dwelling troglodytes. It's been visited by Queen Victoria, written about by Daniel Defoe and graffitied by Lord Byron, but it's never witnessed anything quite like Ward XVI.
There are Babadooks and dancing dolls, blood, gore and disembowelments as vocalist Psychoberrie and deranged cheerleader Rico Rameres – sort of a cleaver-wielding metal version of the Happy Mondays' Bez – lead the visual assault. The music packs both muscle and melody. It's more involved, progressive and eclectic than you might expect from the stage show, but it's still the Alice Cooper on a budget-meets-Grand Guignol theatre that stands out." ~ Metal Hammer
"Bloodstock also prides itself on providing a springboard for new and lesser-known bands though and, as ever, there was plenty to discover. Ward XVI electrified the early crowd on the Wednesday with an ambitiously theatrical set". ~ Kerrang!!
"Ward XVI were up next and there is only one word for their entire performance: exquisite. The choreography and production was to be admired, every single step was full of horrifying and chilling details right down to the ghoulish costumes, their preparations did not go unnoticed. The atmosphere was haunting and the music was belting.
The flames took their position for 'Burn The Witch' and at that moment I realised they had nailed the theatre act, definitely the best I've seen. Psychoberrie is a hero, her vocals were effortless and powerful, there were zero breaks when she hit the clear notes resulting in a silky smooth running. This crazy lady gave birth only a couple of weeks ago and there is no denying that all the hours of dedication to perfect the performance definitely paid off. The tent was bursting and their overall sound was huge, certainly well balanced between the electronics and guitars too, a fantastic job".  ~ Metal Planet Music
"In-house favourites Ward XVI followed with their ambitious Metamorphosis set. I'm very much aware of the time and effort that went into this production and I was absolutely buzzing with the crowd's reception. They absolutely nailed it including some impressive flames during "Burn the Witch", and a wealth of costumed characters. Ward XVI proved that they're ready for the bigtime with a huge crowd following and an actual show, not just some songs with bells on". ~ Moshville Times
"Whilst metal is strewn with wildly theatrical acts, there is still something deliciously unique about Ward XVI. They universe build at such a quantum level that it is frankly breathtaking. Every angle has been considered and there is so much detail to feast on that you're not quite sure where to put your eyes. The other thoroughly unique component is the music. It would be so easy to wed their highly impressive amateur dramatics to a meat and potato classic rock soundtrack. But that would be too easy and pedestrian for a band with such highly convoluted ideas. Instead, they have created a musical maelstrom that borrows from a billion different places. Yes, there is a bedrock of rock here, but they reach out far beyond the confines of our world dragging jazz, polka, and a thousand other influences into the gravitational pull.Everything has been exquisitely over-thought and that is utter beauty of Ward XVI. They are operating at an intellectual and opulent level that few other fledgling acts can muster. Their short but effective stay culminates with the now customary circus pit, the bastard child of a Jewish wedding and the front row of a hardcore gig. It is that submersion and maintaining of character that means that even the non-initiated are by the end swept away by the spectacle they witnessed. And for those still worshipping at the altars of stripped-back troubadours, God you are missing out". ~ Rock flesh