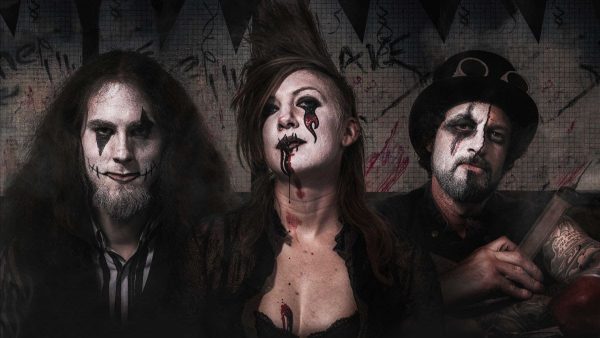 Ward XVI are proud to announce their signing to Metal Rocka Recordings, a sister label to Off Yer Rocka Records by Hard Rock Hell, releasing the first album on the label that was revealed earlier this year.
"We've been talking with the Label for several months about the next album and our vision, which we are very passionate about and absolutely want to surround ourselves with people who not only feel the same, but also how we can work together to push each other to another level. From early on we were encouraged by the passion and enthusiasm that John brought to the conversation, and his vision for where he wants to take Ward XVI."
John Ellis, Director of Media, label, Chic Festival and Off Yer Rocka Recordings:

"It is with great pleasure that we can announce our first signing to Metal Rocka Recordings are the incredible Ward XVI. For the uninitiated, Ward XVI are a superb hard 'n' heavy band from the north-west of England that expertly balance a perfect blend of rock with the theatrical beauty and intensity of your favourite classic metal bands.

The band have a stellar reputation as one of the UK's best live acts and their shows are a sensual and frightening treat for the eyes and ears. Ward XVI's first release for Metal Rocka Recordings is the follow up to the eagerly awaited and critically acclaimed to 2017's "The Art Of Manipulation',

Metal Rocka Recordings and Ward XVI cannot wait for you to hear the next chapter of Psychoberrie's strange and terrifying tale, the album will be available on September 25th 2020!"
WARD XVI can also reveal details for their next album…
"We're very excited to bring you the sequel to our debut with our second album, 'Metamorphosis', which continues the story from 'The Art of Manipulation', following a central character.
Our first album was released three years ago and we've been performing those songs for over five years, so we were desperate to get the next chapter written. We faced some challenges as a band due to touring and line-up changes and it became too difficult to sit and write and took longer than anticipated, so we removed ourselves from the normal gigging scene which felt a gamble at the time as it is easy to be forgotten, but it was a step that had to be taken to complete the writing.
We are a lot more confident about who we are with our sound and as a performing band compared to the first album, and as the line-up had changed somewhat, the decision-making process was much more straightforward, less forced and less stressful. The concept for a whole series of albums has been planned way before the release of our debut, and so writing and recording at home we were able to compose tracks that fit into the concept, and we were free to progress sonically without pressure – other than what we put on ourselves. We faced challenges head on and as a result we're very excited to offer our inmates and new fans the next chapter.
Once the demos were complete, we again booked our time at Edge Recording Studios in Macclesfield to work with our producer-Mark Winterburn. This man is a genius and very much one of the band. He gets us, he's not worried about challenging each of us or developing tangents to songs that we had not thought of. We were far more prepared for the studio this time around so it was more controlled and less stressful. The 'Metamorphosis' sessions took ten continual days of recording from around twelve hours a day to get wrapped up. It all seemed very natural and didn't feel like 4 years had passed since we were last there. Unlike the 'Art of Manipulation' sessions, we had the bonus of not having to camp in beer gardens and car park floors for two weeks, as we had the baby with us."
'Metamorphosis' will be the darkest but probably the most important piece of the jigsaw detailing the making of the serial killer we came to both love and fear during the first album. We've challenged ourselves musically and theatrically with this next release
Psychoberrie, Lead vocals.
Metamorphosis synopsis:
Deep inside the walls of Whittingham Asylum, a new inmate is tortured mercilessly at the hands of those who keep her. Consumed by a ferocious rage, she succumbs to the comfort of insanity. What emerges from the shadows is more evil and profane than any of her tormentors could have imagined…
A mother's love, formed in a haze of dolls and daisies, is blackened by merciless addiction. A little girl seeks protection from the broken and abandoned, anything to quell the monster that comes at night. 
Corrupted by unspeakable cruelty, pious innocence undergoes a malevolent transformation. Experience the elation of a first kill and the debauchery that ensues, culminating in a desperate run from the law.
'Metamorphosis' challenges everything you think you know about the notorious fiend, Psychoberrie. Travel back to the very beginning and ask yourself: is evil born, or made?
Continuing our ethos of a close family, we invited some very special guests to perform on the album from our celebrity phone book:
John Badger (ex Impavidus) provided full drums for the album.
Martin Crawley – keys and accordion, also contributed to the first album.
Anabelle Iratni – We are lucky to have Anabelle from Devilment provide amazing vocals to a couple of songs. She's been a friend and fellow inmate since Bloodstock 2017, it was insane to finally have her perform with us.
Russ Custard – Our great friend from Footprints in the Custard also provided some insane vocals on this album. He and his band have been great friends of ours and again it was fantastic to share something special to us with people who are special to us.
There are also other special guests but we have to keep that a secret for the time being. We have an amazing following of inmates who are as desperate to hear the next chapter, as are we to release and perform live on stage. The time is coming!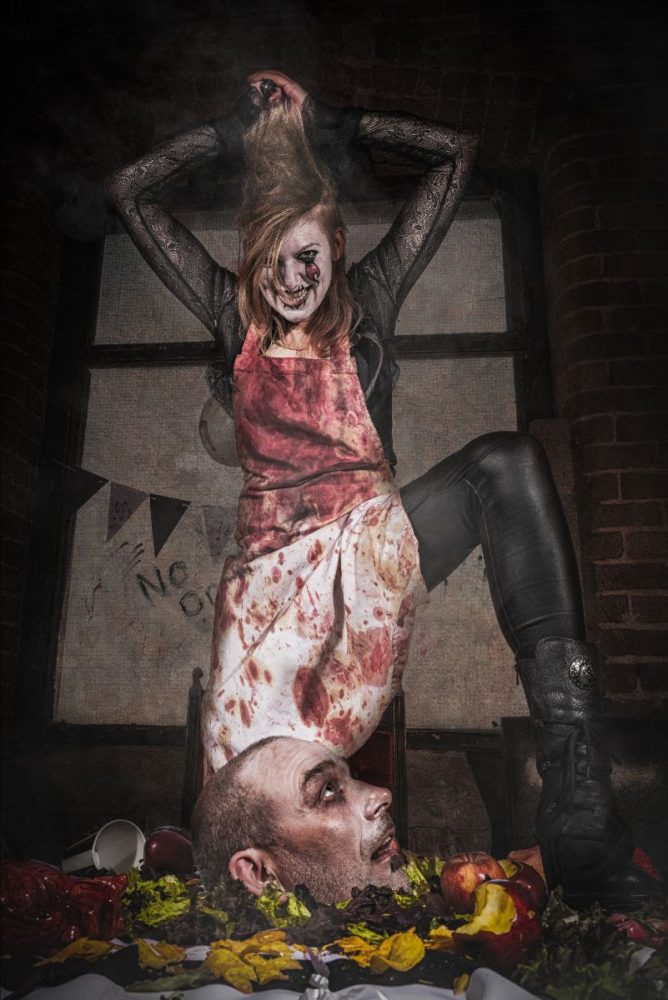 PRE-ORDER release info:
We have spent a considerable amount of time thinking about our pre-orders and the merchandise for 'Metamorphosis'. We have a commitment and responsibility for the production to be the best product possible, not just as a physical music release but also live, so along with funding the costs of making the album further proceeds will be re-invested into developing our new stage show.
We are most excited with the bundles which offer inmates the option of new merchandise lines that not only match our show and theme. With another sneak peak at the concept of 'Metamorphosis', there will be tiered bundle options:
Egg
Larvae
Pupa
The painted lady
Bundle for the criminally insane
Within each there is an increase of the goodies included, of course, everyone will want the bundle for the criminally insane!
We also have on offer one (or two) off commissions of memorabilia that will be unique to the buyer. One such limited edition product is the opportunity to have your name scrawled onto the asylum wall within the booklet of the album, you'll be officially labelled and accepted as an official Ward XVI inmate! This will only be available from until 1st August as a pre-order only, so don't delay!
Preorders of the album and merchandise will be available from www.wardxvi.com.
Inmates new and old, you are to thank for this release. You spurred us on to continue at a time when we could've given up so we dedicate this release to you and the immense support you have given and continue to give and when this lockdown is finally over we promise to bring a new and exciting show to accompany a new album which we're incredibly proud of.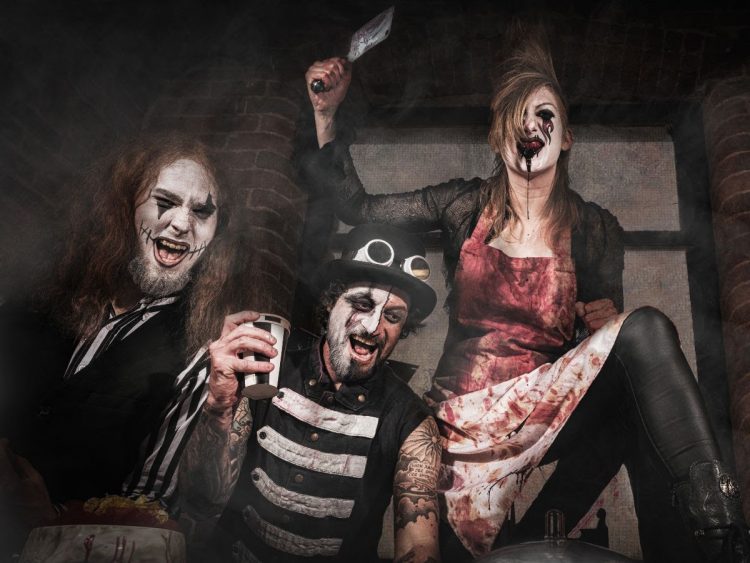 All images please credit: Topher O'Meagher, Watchmaker Studios.
Ward XVI's second album 'Metamorphosis' will be the first album released on Metal Rocka Recordings on 25th September 2020.